General Contracting
Interiors
Design/Build
Pre-Engineered Metal Buildings
Masonry
Concrete


Services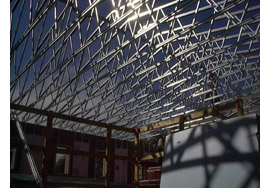 At Trinity Contracting we do not shy away from the complicated and challenging projects facing today's builders. The most demanding schedules and perplexing design parameters are handled with the utmost in professionalism and attention to detail. From design build jobs for FedEx Ground and Allegheny Ludlum to plan and spec jobs for Municipal Authorities and Airports, Trinity Contracting has the ability and the skill to deliver projects on time and within budget. Through constant hard work, unyielding skill, and relentless determination, Trinity has remained a continued leader in not only the Southwestern Pennsylvania market but also across state lines.

A key to Trinity's success has always been and remains to be our talented labor force. The ability of Trinity's in-house staff of engineers, draftsmen, estimators, project managers, supervisors, and accountants allows us to take projects from vision to reality without the project ever leaving our hands. A talented field staff is also required and the skill and experience of our field staff is evident in the quality of the jobs that we continue to produce. A long list of repeat customers bears proof of Trinity's complete conviction to our corporate motto "A good name is worth more than great riches."


Click on any photo to enlarge.
General Contracting

General Contracting is our main focus at Trinity Contracting. Being a General Contractor, Trinity is responsible for the building construction of a project, typically consisting of site work, foundations, slabs, masonry, framing, enclosure, finishes, fire protection, plumbing, mechanical and electrical. In addition to the other responsibilities, the General Contractor is also responsible for the management and scheduling of the job.
Photo: Laurelville Mennonite Church Center.
More.


Interiors

At Trinity Contracting we have the ability to carry out the work needed to finish out the interiors of your office, retail, religious, or educational facility. Our interior crews are very proficient at the installation of wood & steel stud framing, gypsum wall board, paints and wall coverings, acoustic ceiling assemblies, and doors & windows.
Photo: Cafeteria renovation at the Yough High School.
More.


Design/Build

Trinity Contracting takes great pride in the level of success we have had with Design/Build Contracting. Design Build is a method of contracting in which one entity performs the architectural, engineering, and construction under one contract. Design Build has many advantages over a traditional "Plan and Spec" job such as higher quality and savings in time and money.
Photo: Airo Die Casting.
More.


Pre-Engineered Metal Buildings

In the arena of pre-engineered metal buildings, Trinity Contracting takes great pride in the size and quality of buildings we deliver. Whether a 100 sq. ft. transformer building or a 100,000 sq. ft. warehouse, we can build the metal building you require. Pre-engineered metal buildings offer cost and performance advantages when compared to conventional construction.
Photo: F.M. Weitzen Company office / warehouse.
More.


Masonry

Trinity Contracting will help to install the masonry for your next project to deliver a completed, structurally sound building in a short period of time. Our crews can install both load bearing and façade/cladding masonry. Masonry construction has been around for thousands of years and to this day continues to be one of the most popular methods of construction.
Photo: Block and split faced masonry veneer at Word of Life Ministries.
More.


Concrete

Trinity Contracting uses a multitude of concrete construction systems coupled with the latest in concrete mix design and curing to provide safe and architecturally pleasing cement buildings and structures that will stand for decades. Using the ever increasing advancements in the materials and processes of concrete construction, we can provide cement buildings that are larger, taller, more complex and safer than ever before.
Photo: Poured wall and slab at Lennox North.
More.
About Trinity | Services | Projects | What's New | Subcontractor Access | Contact Us | Home

© 2007 Trinity Contracting, Inc. All rights reserved.